Finding the perfect gay birthday gift is not an easy task.
You don't always know what he likes, what his lifestyle is or what he prefers more than anything.
To make things easier for you, we've collected for you the gifts we love most from our online store and we believe are the perfect gay birthday gift.
Gay Gift Card
Gift Card is a great gay birthday gift. If you're not sure what he likes or what package he likes the most, just give him a gift card.
You can choose between different amounts of Gift Card. Your friend will always be able to complete the amount if he decides to buy a more expensive gift or save the remaining amount for his next purchase.

get our gift card >
Apollo underwear package
This pack is our best-selling package. This package has:
3 classic brief underwear by Addicted brand
Modus Vivendi special socks
Handmade natural body lotion with the perfect scent
A sex pack that includes ID lubricant and cockring to complete the feeling
Red classic underwear pack
Our red package is one of our favorite packages. This red color just looks sexy on anyone!
This package includes:
2 pairs of PUMP underwear; brief and jockstrap
Amazing body lotion, with an excellent handmade scent Natural face serum
Sex pack with lubricant and cockring
In our opinion, this package is more suitable as a gay birthday gift for a spouse than a close friend.
But hey, you know your friends best, no?
Hades leather pack
If you're a little daring, you can always get one of our leather packs for your friend or spouse.
This package, for example, comes with:
Short sexy boxer
Sexy tight tank top
Addicted Fetish Socks
Leather bracelet and leather collar
Sex pack with lubricant and cockerel
You can choose from a few colors, all combined with leather, and give a complete total look for a fetish party or particularly enjoyable night in bed.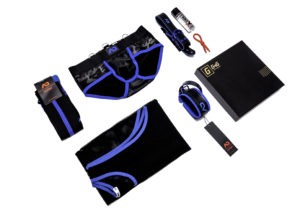 Surprise me pack
This is the option we love most!
It gives us the opportunity to imagine what the person who buys it likes 😊
In this pack you just let us surprise you or your friend and send what we love most.
You can choose the quantities that will be in the package, but we choose its contents.
If you want to help us with the decision, you can add some information about your friend in the comments of the invitation, it will certainly help us to pinpoint his exact taste.